If you just made your acai bowls with acai powder and a handful for fresh fruit, you would already benefit from one of the most powerfully antioxidant fruits on the planet. But what if you could boost the nutrient value of your bowl with some extra superfood acai bowl ingredients? Here's how to get more power in your breakfast bowl, and super boost your smoothies.
Six of the best acai bowl ingredients
Acai powder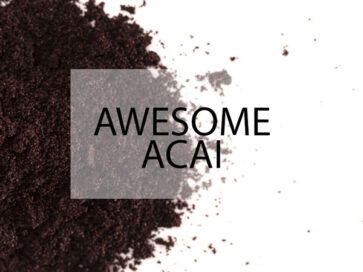 A hugely powerful antioxidant, acai is one of few fruits to contain essential fatty acids, including omega-3, -6, and -9. Not only does this boost the nutrient profile but also gives it a creamy, satisfying texture. The perfect anti-ageing ingredient, acai fights free radicals and is bursting with minerals and vitamins.
Used mainly as a powder, this deep purple berry has a delicate flavour that can be enhanced by other berries, bananas, and creamy ingredients. It also likes to be paired with chocolate.
Add 1 tablespoon acai powder to your smoothies and smoothie bowls, or you can stir into porridge and bircher muesli.
Cacao nibs or powder
Another powerful antioxidant, cacao has a ridiculous number of health benefits. Rich in minerals it tops the charts of magnesium containing foods, and boasts high levels of calcium and iron too. A mild stimulant, it can enhance mood and boost energy levels.
Cacao powder is raw, whereas cocoa powder has been roasted. Not only does this preserve nutrients, but give cacao a surprisingly rich creamy flavour unlike the bitter tones of cocoa.
Used as powder and delightfully crunchy little nibs, add 2 tablespoons of acai to your smoothies, bowls or bakes.
Maca powder
Marvellous maca root powder is a true wonderfood. One of the few plants that can act as an adaptogen, its role is all about balance. This means that it can adapt to what the body needs. Maca supports the adrenal glands to balance hormones. It can help to manage stress and decrease anxiety.
Maca is also full of vitamins and essential minerals, as well as amino acids. Like most superfoods, it supports the immune system.
Maca has a distinct malty flavour that pairs well with creamy ingredients and cacao. Add 1 tbsp to your smoothies and acai bowls.
Hemp seed
Hemp is a hardy, sustainable crop with many uses, and the seeds are highly nutritious. Packed with protein, hemp is available as seeds but best used as a powder. Sold as a vegan protein powder, hemp provides all of the essential amino acids as well essential fatty acids such as omega -3.
Hemp can also help to balance hormones, with high amounts of GLA.
Add 2 tbsp of hemp protein powder to your shakes, bowls and smoothies.
Chia seed
Chia seeds are crunchy little balls of protein, with remarkable gelling properties that make them really useful for thickening smoothies and creating healthy desserts. Mixed with water or milk and acai powder, they make a great base for your acai bowls.
Full of antioxidants, essential fatty acids and also fibre, chia seeds provide high doses of calcium and iron.
Add 2 tbsp chia seeds to your smoothies and desserts.
Goji berries
Gorgeous goji berries have a beautiful bold orange colour and a tart fruity flavour. The dried berries are slightly chewy, but goji is also sold as a powder. They provide a balanced spectrum of all major nutrients and are bursting with vitamins and minerals.
Add 2 tbsp goji berry powder to your smoothies, or sprinkle over your acai bowls for that goji glow.
Check out our range of ingredients for a smoothie, or buy in bulk online at our wholefoods store.
---
This Article was reproduced with permission from Opera Food's  article:- "Six of the best acai bowl ingredients. Boost your bowl with superfoods."